The Bowery Alliance of Neighbors is a nonprofit grassroots organization working to protect residents, small businesses, the neighborhood and the historic character of the Bowery

Bowery Alliance of Neighbors'
10TH ANNIVERSARY!
We are delighted to be holding this gathering at the venerable Phebe's Tavern & Grill. Once known as "the Sardi's of Off-Off Broadway," Phebe's has a great chef and some of the best seats on the Bowery!
There is NO COVER CHARGE and Phebe's is offering Drinks at HAPPY HOUR PRICES and FREE Hors d'oeurves!

Live music by guitarist John Campo!
Since 2007, the Bowery Alliance of Neighbors has worked to preserve and celebrate the historic fabric of NYC's oldest thoroughfare. Threatened by a ferocious wave of real estate development, our efforts have included petitioning, lobbying, public forums and a contextual zoning proposal. In addition to our widely praised Windows on the Bowery historic signage project, we have succeeded in getting several buildings landmarked and the entire Bowery listed on the National Registers of Historic Places.
Where: Phebe's 361 Bowery (corner 4th Street)

When: Tuesday, October 24th 6:00 – 8:00 p.m.

RSVP by Oct. 17th: ban62007@gmail.com or call 212-674-9073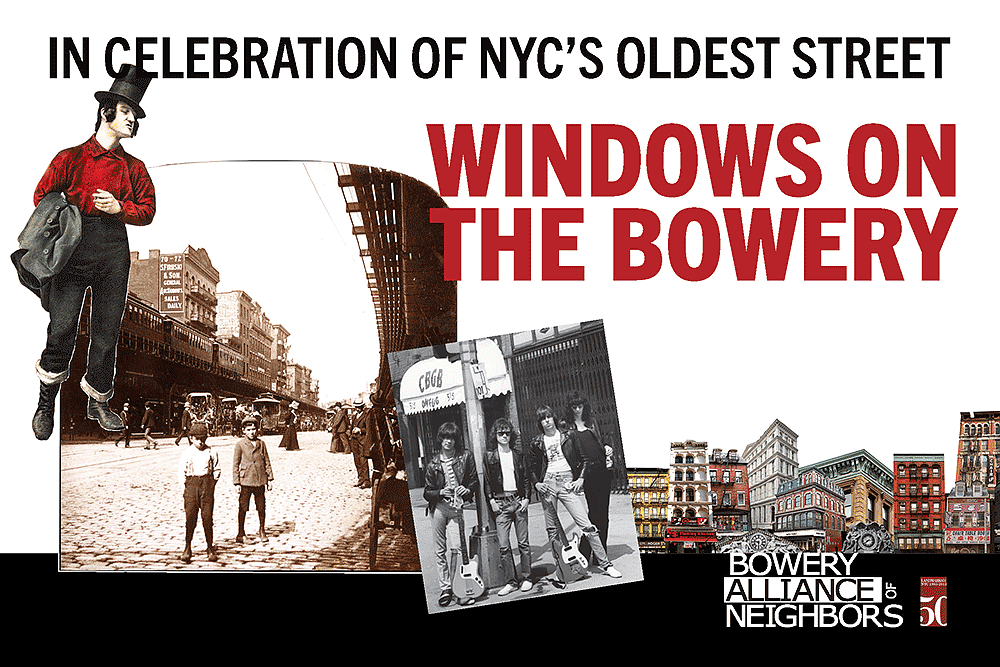 No dainty kid-glove business, but electric force and muscle.

The Bowery today is still an architecturally, culturally and commercially vibrant street
The Bowery includes four centuries of buildings, a live /­work community of artists, diverse residents, social service organizations and the country's oldest free university. In addition to restaurants, hotels, and clubs, the Bowery contains a long-established district of affordable jewelry, lighting, and restaurant supply stores. At the convergence of multiple historic neighborhoods—Chinatown, Little Italy, NoHo, East Village and Lower East Side—it is a magnet for tourists who love its low-rise charm and eclecticism. Because of its unique architectural, historical and cultural significance to the state and nation, in 2013, the Bowery was listed on the State and National Registers of Historic Places, in honor of its centrality to the culture of today. The Bowery's influences are felt everywhere.
Ironically, much of what has made the Bowery unique and desirable is now vulnerable to the wrecking ball.
The State and National Registers of Historic Places listings—unlike NYC historic districts—do not offer architectural protections. Unlike Greenwich Village, which contains large protected areas, only a handful of Bowery buildings and a small stretch of its western side above Houston Street are protected. Because its east side lacks height restrictions, out-of-scale developments on this part of Bowery and its stretch below Canal Street are destroying its low-rise character and rapidly displacing its residents, diverse small businesses, and long-established artist community. While the Special Little Italy District on the Bowery's west side above Canal Street sets zoning restrictions and height limits, even there, real estate speculation is fueling a ferocious wave of destruction.

Allowing skyscrapers to populate the Bowery's east side will not only generate an eyesore of ridiculous incongruence but also displace the very type of businesses and residents that constitute the Bowery"s main allure.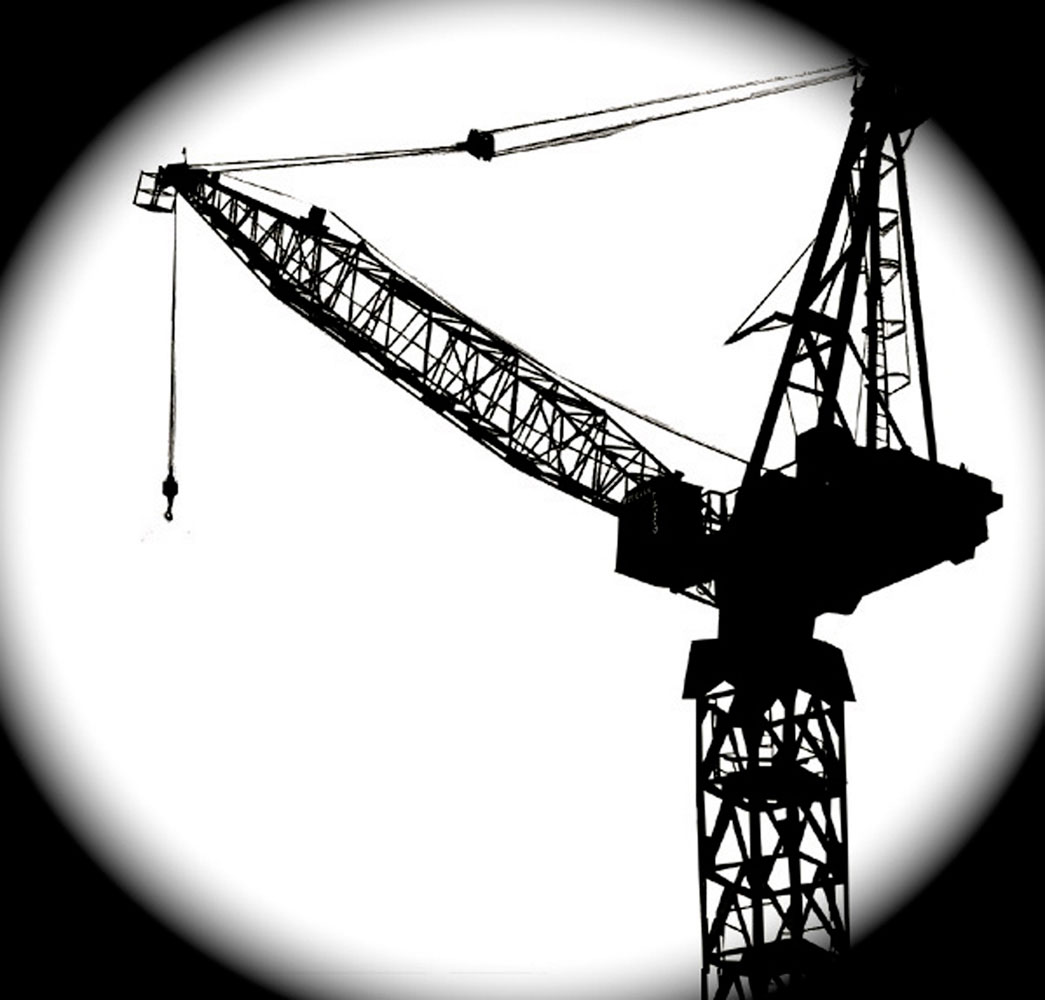 The Bowery needs protection because it is:
NYC's oldest, most architecturally diverse street, including 200+ year-old Federal houses
Plagued by out-of-character development–such as, luxury apartment buildings and high-priced hotels — which is displacing long-term residents, small businesses and the neighborhood's historic context
A long-established live/work community for visual, musical and literary artists
A long-established jewelry, lighting and restaurant supply district
A generator for the local economy attracted to its historical character
An incubator of American history and culture
One of few NYC streets with international name recognition
Listed on the prestigious National Register of Historic Places
The Bowery and its east side are threatened with becoming a playground for developers . . . gigantic high-rise hotels and condos being built in the area create mid-block eyesores and ruin the flow and feel of the area . . . high-rise development on the Bowery is pushing out local residents, many of whom have lived in the area for decades.

City Council Member Margaret Chin,
2009 Letter to City Planning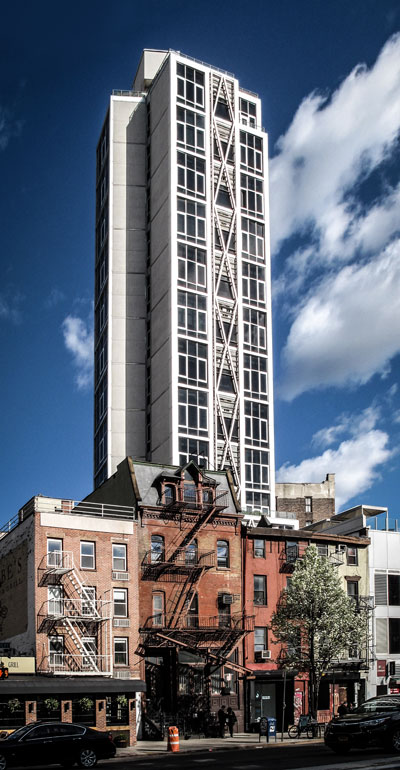 Luxury tower destroys low-rise context of landmark Germania Fire Insurance Co. (357 Bowery)
Perhaps most significantly, the Bowery is an indispensable resource of two centuries of American social, economic, political, immigrant, labor, underground, criminal, deviant, marginal, counter-culture, literary, musical, dramatic and artistic history, and it is within the remarkable architectural catalogue of buildings that this history was made.

Kerri Culhane, Architectural Historian

The lack of contextual zoning for the east side of Bowery has precipitated a wave of out-of-scale development which not only threatens the affordability of the area but changes the cultural, historical and architectural significance of the Bowery.

Fun Facts About the Bowery!
New York City's Oldest Thoroughfare
The Most Interesting Place in New York
Washington and Troops Marched Down the Bowery
NYC's Most Architecturally Diverse Streetscape
NYC's Oldest Brick House
A Stanford White Masterpiece
Manhattan's First Free Black Settlement
Lincoln's Famous Anti-Slavery Speech at Cooper Union
Stomping Ground for Immigrants & the Working Class
America's First Streetcars
Social/Commercial Hub of Kleindeutschland
NYC's First Entertainment District
Bowery Theatre Was America's Largest
Birthplace of Vaudeville
Yiddish Theater's First American home
America's First Two Great Songwriters
Five Spot Cafe was the Hippest Place on Earth
Cinema's most famous seduction line
NYC's First Community Garden
Birthplace of Modern Tattooing
Birthplace of Punk Rock
Bowery Rescue Missions Have Sheltered Millions
A Live/Work Community for Artists Since the 1940s
NYC's Oldest Continuously Operating Hotel
Notorious Epicenter of Gay Nightlife in 1890s
The Bowery Boy has been an icon of the street since the early 1800s. In the mid-1800s, actor Frank Chanfrau's legendary portrayal of Mose, the swaggering, firefighting Bowery Boy, was a sensation in stage appearances. across the country.

The Bowery Alliance
Since 2007, the Bowery Alliance of Neighbors has worked to preserve, protect, and celebrate the Bowery's unique architectural and historical fabric.

Our goal is to raise consciousness about the street and effect protections to halt the displacement of its residents, small businesses and historic character. Programs have included lectures, forums, slide shows and film screenings at venues including the Tenement Museum, NYPL, Film Forum and the Bowery Poetry Club. We curated a 4-day festival at Anthology Film Archives called From Mae West to Punk: the Bowery on Film. To influence elected representatives, we organize lobbying and spearheaded a petition drive which gathered thousands of signatures. Our letter-writing campaign included passionate support from restaurateur Keith McNally, historians Mike Wallace and Luc Sante, composer Philip Glass and filmmaker Martin Scorsese. Through our efforts, several Bowery buildings have been declared NYC Landmarks, and in 2013, in partnership with Two Bridges Neighborhood Council, we succeeded in listing the Bowery on the State and National Registers of Historic Places. That same year, we received the prestigious Regina Kellerman Award, which honors community preservation work. In 2016, we will launch Windows on the Bowery, a series of 63 informational posters celebrating remarkable people, events, buildings and achievements associated with NYC's oldest street.
What you can do:

Write and/or lobby elected officials
Sign the PETITION
Join the Mailing List!
Become a Member!
DONATE to Bowery Alliance of Neighbors' preservation work
Credits
Photo/Image/site credits
Credit for collage of buildings – Onno de Jong
Credits for Windows postcard images; Images courtesy (left to right): Harvard Theatre Collection/D Mulkins/Bob Gruen/Onno de Jong
Credit for crane – Sally Young
Credit for building with tower in background – D Mulkins
Credit for big Bowery Boy image – Harvard Theatre Collection
Kerri Culhane, Architectural Historian
Site created and maintained by Circular Creation / Onno de Jong, author of the book For a Future.com